Our daughter's birthday is December 29. (And unlike parents who give birth, we did not rejoice because she was born just in time to be a tax deduction. It doesn't work that way for adoption.) For her first birthday with us, we had a
nice family party
at my parents' house. But this year I wanted to have a "real" birthday party for her. And my friend Kristin, who also has a December birthday, pretty much badgered me into it!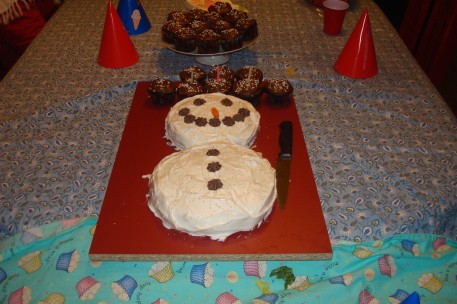 When asked what she wanted for her birthday, she said, "Cupcakes and balloons." Later, she got more specific: chocolate cupcakes and a snowman cake. Now, I'm not into shaped cakes, but I figured I could do a snowman. Two 9-inch round cake pans, a few chocolate stars (left over from the Peanut Blossoms), a real carrot for a nose and the cupcakes arranged like a hat. Voila!
About 30 family and friends came for a fun afternoon party with fun, pizza and presents. I can't find my camera right now, so here's a photo taken by our neighbor (the mom of the cute baby Sophie is holding.) She's wearing her felt birthday crown I made last year and an adorable dress with an machine embroidered snowman, made by my Aunt Pat. What a cutie!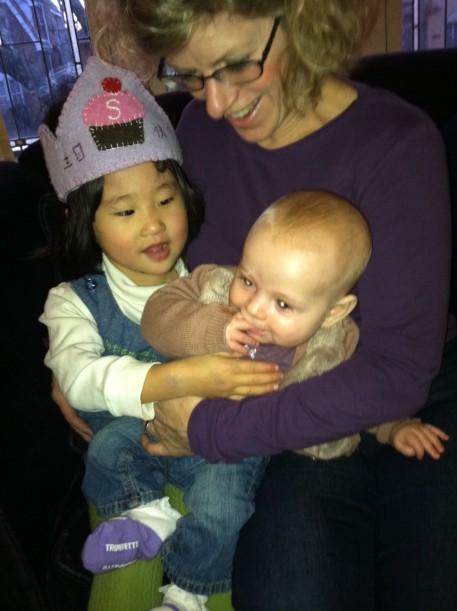 I'm so excited to have a girl who is 3! She is a happy kid and a very focused, hard worker. She loves having stories read to her, crafts and playing outside. She especially loves her Daddy--and the Hello Kitty purse and accessories we gave her. Happy birthday, sweet Sophie!