We interrupt Selfish Knitting Month (or my two month's late report of it) to bring you some unselfish knitting.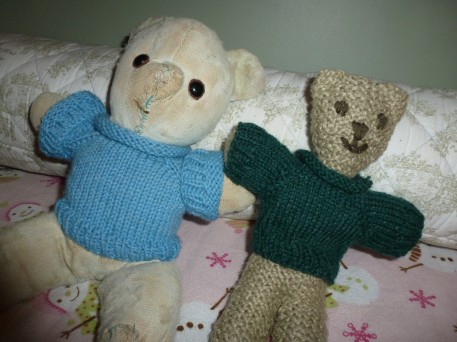 My son asked me to knit a sweater for his teddy bear--which is actually my teddy bear from when I was about 1 year old. I called him "Boo Bear" since I couldn't say "blue," and, as you can see, he's had quite a bit of fixing up already. I got him out to show to the kids and Sam started carrying him around. I figured a sweater might protect him a bit. After all, he's already 45-plus years old.
I used the free Teddy Bear Rollneck Sweater pattern (Ravelry link
here
) and some blue superwash wool from my stash. The pattern assumes you know how to knit a top-down raglan sweater ("move sleeve sts from scrap yarn to needles and begin working in stockinette stitch"--it took me awhile to figure out which stitches it meant). I chose to just have the rollneck and did K1P1 ribbing at the sleeves and bottom. For next time: Bears have very short arms.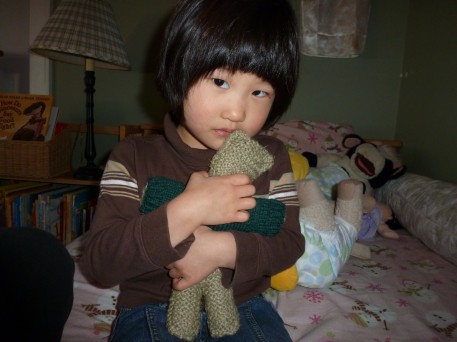 Then Sophie asked me to knit a green sweater for her bear (which I had knit for her last year). I just used smaller needles and slightly thinner wool/acrylic from my stash. Maybe this was a little selfish after all, since it makes me so happy to see them playing with handknit toys!