Another example of unselfish knitting in January--this a very belated gift for someone at worked who served as a teaching mentor for me the past year. I wanted to knit her a scarf and decided on the
Vite cowl
(free pattern on Ravelry).
Wouldn't you know I can't remember what I knit this with now, and I think I put the yarn wrapper in with the gift for washing instructions. I do know I decided to spring for something nicer than Wool-Ease Thick & Quick so I went to the closest LYS,
Knit 1
on Lincoln Avenue, where I proceeded to be very indecisive. Which is why I can't remember which yarn I eventually decided on, except that I remember this sweatshirt grey might be good because my teaching mentor teaches physical education majors. I do know I passed on a super soft alpaca, which in retrospect would have been very nice.
**I found the yarn label: It's
Brown Sheep Burly Spun in Grey Heather.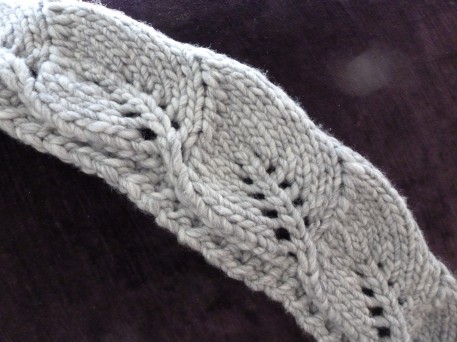 My big alternation is that I knit this as a scarf, not a cowl, which turned out fine. It looks a lot better after blocking--and it took a long time to dry. I would knit one for myself (in that alpaca), but after this winter I don't know if I'll be needing any bulky scarves. Still, this is a quick knit and a nice gift.
And I think the recipient liked it!
**Vite means grapevine in Italian.