The good news is that our kids got into the public preschool--not our neighborhood school, but one just one neighborhood over. This means they will both go to a half-day of preschool everyday AT THE SAME TIME. It will really make it easier for both my husband and me to get work done.
The bad news is that they will be leaving the coop preschool, which has been so great for them. Their teacher was such a model of patience, especially with Sam. We are so grateful that this was the first introduction to school for both of them. Although we contributed to a larger group gift for the teachers, I wanted to make something personal for the teachers and for the woman who works in the church office and has been so sweet to both of our kids.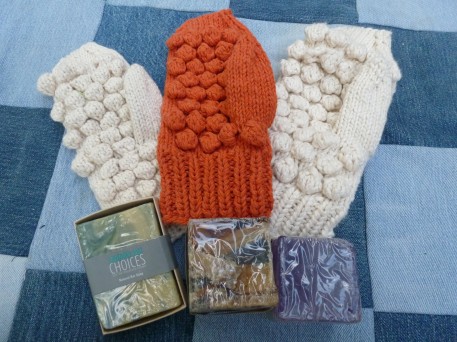 I decided to knit this bath mitt (Mira's Bath Mitt, free pattern
here
, from Give It a Purl), which I have
made before
. I like the bobbles on it (for scrubbing) but they are a pain to knit, especially with cotton (because of the lack of stretch and "give" when knitting into the front and back so many times). I had one already knit up (the orange one) and made these two off-white ones with some
Cottontots
in my stash. The first one seemed a bit thin, so I used a double strand on the second one--which was even harder to knit with.
I paired each bath mitt with a fancy soap (actually made by low-income women here in Chicago). Then the kids stamped thank you cards and I wrote their messages on them. I didn't finish them in time for the last day of school, but delivered them during the church's Vacation Bible School, which the kids love. Here's a cute picture of Sam at VBS: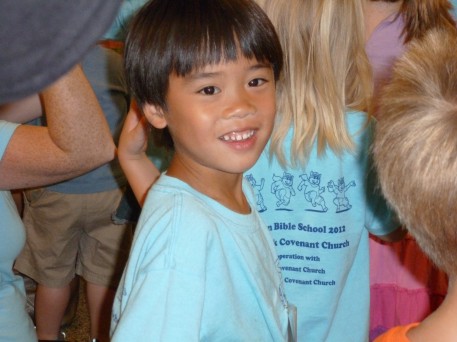 And a cute photo of Sophie to go with it. I think this is from a nature center hike with Daddy: