...but our camera is missing, so I don't have any photos. So here's something I made a couple months ago.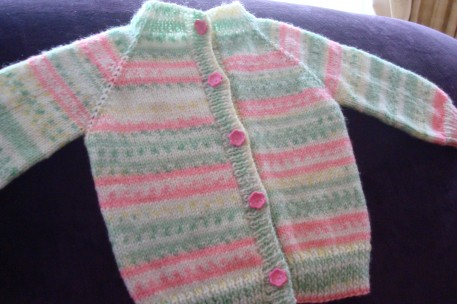 This is a baby sweater I knit for a co-worker whose wife had their first in early November. They knew it was a girl, so I could go all pink. I used a "charity baby sweater" pattern written by my mom, which is a nice basic top-down design using the self-jacquarding
Bernat Baby Jacquard
yarn. I used one skein of the "Spearmint Candy" colorway, which I think I got on clearance at Michael's for $3.
Unfortunately, I wasn't paying attention enough to notice the pink stripe issue, on the front. It was glaringly obvious to me when I finished it, but when I asked my husband if he noticed anything wrong with the sweater, he looked at it for about three minutes, then finally said, "Is one sleeve longer?" I considered covering the area with a knit flower or something, but then just decided to let go of perfection.
Look at that sweet button. Sometimes it's the little details that make a project.
Here's what I've been knitting in this new year (photos to come):
* The "
Burberry-Inspired Cowl Neck Scarf
"--for me! (Ravelry link)
* A scarf and hat to match my new (thrifted) coat--again for me!
* And, believe it or not, I've started to knit a nativity set.