More from "Selfish Knitting Month" aka January (yes, I know it's practically March!)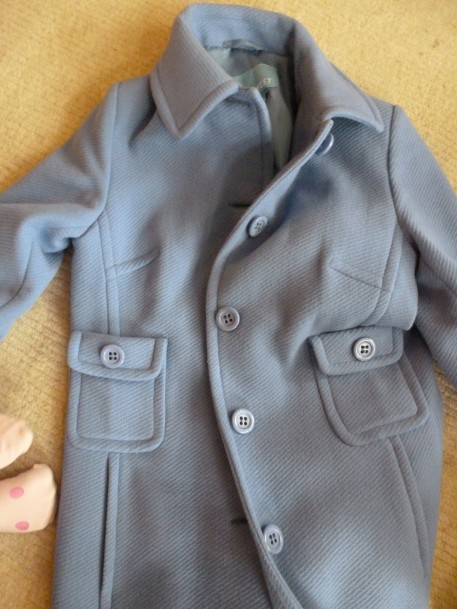 After wearing the same black winter coat for approximately 10 years, I finally found a new one: this Nine West wool coat in an awesome periwinkle blue. The best news: I got it at a thrift store for $5! I did have to shorten the sleeves a bit (nothing too complicated, just folded them up and hemstitched without worrying about the lining.)
Next, I realized I would need some new accessories, and I started to panic that it might be hard to find ones to match this particular blue.
(Cute pink polka-dotted toes belong to Sophie in photo above).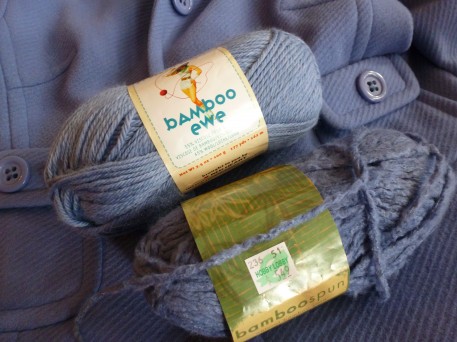 Imagine my surprise when I found perfectly matching yarn (and these were just the ones I bought. There were even more that would have worked.) This must be THE color of the season. For the record, these are
Bamboo Ewe Stitch Nation yarn from Red Heart in Periwinkle
and
Bamboo Spun, which I think is a store brand from Hobby Lobby, in Denim
.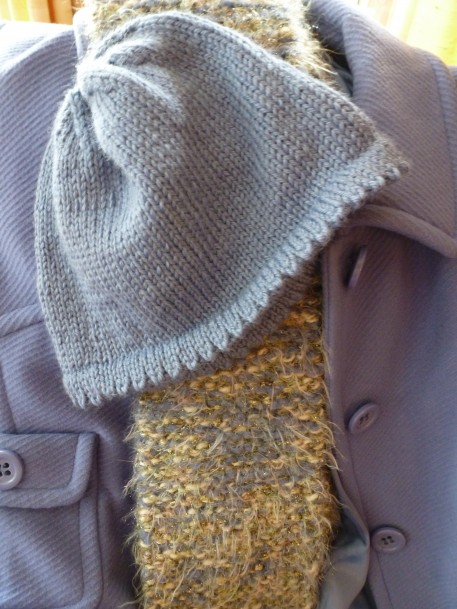 First I used the Bamboo Spun to knit a scarf with two other yarns I had received from either my Mom or my Aunt Pat (or maybe from Aunt Pat via Mom). One was
Berroco Lavish in Donatella
, which has pastels intertwined with cream and gold, plus a third yarn whose label I have lost but which was a sparkly goldish green that matched the Donatella. I just did garter stitch with all three yarns and tapered the ends of the scarf. Unfortunately, I think the scarf is too thick. Maybe it's just this mild winter that is making me consider frogging it. When I wrap it around my neck, it feels too bulky.
The third piece is a hat I've always wanted to knit: this
flapper hat
by Sarah with an H. I used
this tutorial
from the Purl Bee for the provisional cast on (crochet #2) and
this tutorial
from Purlwise for the picot edge. I took the stitches off 5 or 10 at at time. I really like how the pico edge turned out, and it was cool to learn something new. However, I think I probably should have made it a bit longer. I'll have to show a photo of me modeling it.
My plan was to add a flower out of the Lavish and Bamboo, but since I've been reconsidering the scarf, I've held off on that. Meanwhile, I started some mittens in the Bamboo Ewe. I've started thinking this blue would look pretty with chocolate brown, and maybe should do a striped or other patterned scarf, mittens and hat with the Bamboo Ewe, which unfortunately doesn't come in chocolate brown.
Plus, the winter continues to be so warm that I'm hardly ever wearing a scarf and hat. :(