I know some people took down their tree the day after Christmas (some even on Christmas Day) and are now busy with New Year's cleaning and purging. I suppose I might be, too, if I had to go back to work tomorrow. Actually, I do have to go back to work tomorrow, since I have a syllabus to rework and a class to prepare, but I can do that from the comfort (and distraction) of my own home.
So we keep our Christmas decorations up until Epiphany (if not longer), which is nice, since we tend to get a late start. We bought our tree around Dec. 15th and didn't get ornaments on it until Christmas Eve. Which is all a long way of saying that it's OK for me to still be discussing Christmas on this blog, while many craft bloggers are already planning their Valentine's Day decorations.
So here's what I made this Christmas (besides the
aforementioned pajamas
):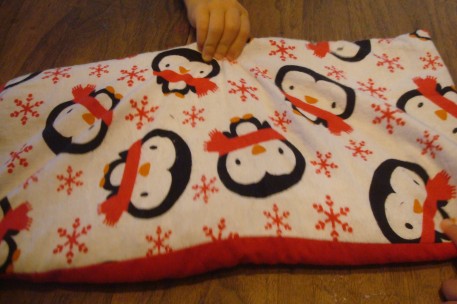 1. 15 microwavable corn bags
(plus 4 that my sister gave away). This is a great gift, easy to make and rather inexpensive. I read
this site
and learned a lot before making my own. The hardest part is finding the corn. After searching for it at Wal-Mart and other sports/hunting stores, with no luck, my Mom finally found some at the local feed mill near her in Wisconsin. I'm on my third giant bag.
I got flannel during a sale at Joann's and tried to get really cute prints that could be matched in pairs, for both sides of the bag. Then I cut it in (rough) rectangles, stitched around, leaving a hole, filled with corn and handsewed shut. The hardest part is sorting the corn. Although the corn my mom got was very clean, it still had broken pieces in it, which apparently can lead to possible problems (ie, fire) when microwaving. It took about a hour to hand sort enough corn for each bag. Luckily, Ed and I were doing a "
Downton Abbey
" marathon in the weeks leading up to Christmas, so I could sort and watch TV at the same time.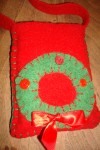 2. Little felt bags
for my godchildren's Barnes & Noble giftcards (this, after searching for local bookstores in their towns that offered gift certificates I could buy online. I gave up my attempt at trying to patronize smaller stores after not finding anything in the whole state of Maine. Sigh.)
3. Toffee:
Once again, I gave away toffee to a bunch of people on my Christmas list, as well as to some coworkers and neighbors. I think I did 15 batches this year.
4.
Christmas cookies:
My sister, niece, mom and I made some 1,500 cookies during our annual "Schlumpf Women Cookie-Baking Weekend" the first weekend in December. In addition, the kids and I made a batch of thumbprints with leftover dough from CBW and Peanut Blossoms with chocolate stars (not Hershey's kisses. I am a purist.). I ran out of sugar cut-outs this year (Sophie's favorite), Spritz trees (Sam's favorite) and my mom's chocolate-dipped Ritz crackers, which taste just like Thin Mints (my favorites). Many Christmas cookies also were shared with some neighbors and brought to parties.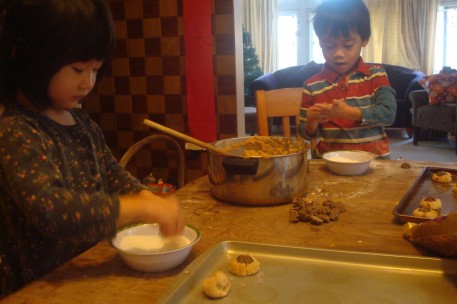 5. Felted mittens:
My only knitted gift this year was one I planned ahead for and knit over the summer. It was a pair of super-warm felted mittens in bright pink for the kids' preschool teacher. She has Sam three mornings a week and Sophie the other two mornings, so she deserved them!